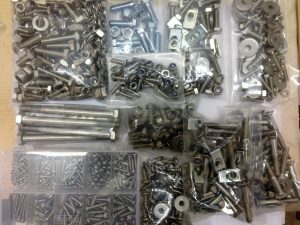 Our business is one that has been an active part of the automotive supplies industry for over four decades. We can provide our clients with a wide range of products, including a Landrover restoration bolts set. There are various other goods in our inventory as well. If you can't find the right products, we do everything in our power to help.
An ideal option
Car restoration is the ideal option for anyone who has a vehicle they love that is starting to show its age. Even if your model has become very old, restoration can bring it back to life. Moreover, the process allows you to take care of scratches and dents, and increases the vehicle's value.
If you want to discover how else restoration can be advantageous, keep reading.
Customise
For one thing, you can customise your vehicle. This is one of the major advantages of car restoration. Similar to remodelling your house, it enables you to make the vehicle really reflect your taste and style. Just be careful if you are thinking about selling in the future; the custom parts you love may deter other buyers.
Safety
Something else you can look forward to is better safety. A car's body is designed to safeguard the passengers as well as the driver. Since this is the case, even minor dents can undermine the frame's integrity. This shall leave you at more risk when accidents occur. For this reason, you should think about restoration so you can restore the safety of your car. If you are replacing a bumper and need a Landrover restoration bolts set, let us know.
Your finish
Another important benefit relates to the finish. Your vehicle's finish is an essential element of the protection of its exterior. Even if you have small chips, they can still result in cracks. This will diminish the amount of protection it offers. In addition, the finish aids in defending the car's paint job and the steel frame that lies beneath. When a car's finish becomes compromised, rust and paint related problems won't be far behind.
Engine trouble
Last but not least, it is possible to use restoration to repair engines. Your car could have some small mechanical issue that you can handle on your own. However, there is always a chance your vehicle could develop a worse engine problem. Repairing one of these solo is not something most would recommend. You could end up damaging the car even more. In scenarios like this, it is a better idea to speak to a dependable restoration garage. They shall be able to give you everything you need.
Contact our business to order parts
At Wrights Auto Supplies, we have no problem providing our customers with a Landrover restoration bolts set when they need it. Unlike many other establishments, we can give customers our products for relatively low prices. This is thanks to us adopting a bulk purchasing approach. So, if you need parts and want to save money, choose us.
If you would like to speak to us about something, feel free to get in touch.